Thor image: Thor 201 Trailer Movie Ad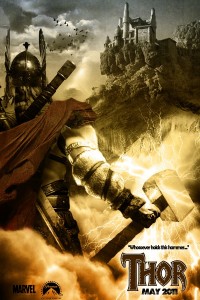 Lot of sci-fi and comic hero stuffs are going on in the XLV Super Bowl 2011. Along with Captain America: The First Avenger, you got another superhero film based on comic book, Thor. Thor's first television commercial is slated to air during Super Bowl. It's a 30 second spot and Paramount Pictures reportedly paid three million dollars for the spot.
Marvel Comic released the film poster in December 2010 (seen here) and the first trailer online (after the jump). It would also release a trailer which could come along with The Chronicles of Narnia: The Voyage of the Dawn Treader.
Check out the trailers after the jump
Read More »Thor Super Bowl Trailer/Commercial: it's sci-fi season