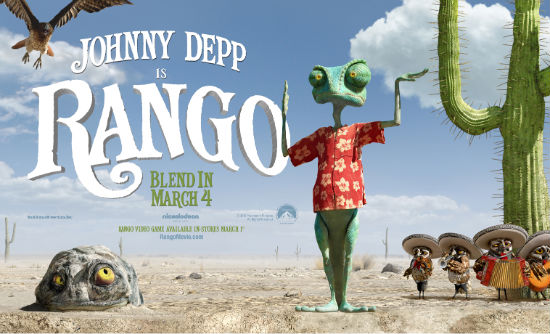 The much waited new Johnny Depp film Rango film trailer for Super Bowl commercial is out. The movie is directed by "Pirates of the Caribbean" director Gore Verbinksi. Depp may end up getting more Super Bowl screen time than Hines Ward or Clay Matthews: The actor was also featured in a short spot for this summer's "Pirates of the Caribbean: On Stranger Tides." The movie also features voices of Isla Fisher, Abigail Breslin, Bill Nighy, Stephen Root, Ray Winstone, Beth Grant, Ned Beatty, Harry Dean Stanton and Alfred Molina.
Rango the movie is about a chameleon who considers himself to be a hero fancies himself a hero in a wild-west town. But circumstances don exactly favor him exactly.
The ad spot is nice and does it job of entertaining viewers as well as creating attention for the movie when it releases. I am sure those who have watched the TVC during the game have thoroughly enjoyed the explosions and "more explosions" joke. Specially kids are much excited. 
Rango Super Bowl TV Spot 2011 HD