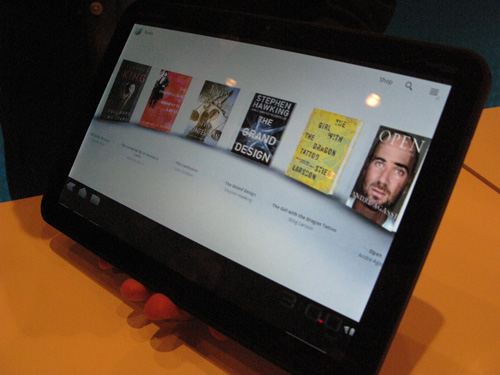 In the second quarter of XLV Super Bowl on Sunday Motorola unveiled a commercial for Xoom Tablet which takes direct dig at now-part-of-folklore 1984 Apple ad. Apple thanks to its iPad dominates the tablet market.
Motorola ad shows a smartly clad man is surrounded by hundreds of people wearing baggy white sweat suits reminiscent of Apple store carry-out shopping bags and signature white iPod earbuds. They look like machine, except off course the Motorola man in gray cardigan and black jeans. He is playing  with a new Motorola Xoom tablet. Not only he is different from the crowd, he stands out (in the ad) because of his individuality. The commercial ends with the smarty guy giving his tablet to a beautiful lady. It's like Motorola trying to woo consumers back from the big brother, Apple, which currently holds more than 70% tablet market share.
And what is the Motorola Xoom guy doing in the subway? He is reading George Orwell's dystopian classic novel, 1984. Apple's '1984' ad which ran during the third quarter of Super Bowl XVIII in — you guessed it — the year 1984. Got the connect? Wait, there are more similarities. Ridley Scott directed Apple ad also featured mindless drones staring off into space and just like Motorola's 2011 ad, it was also a campaign which set the ball rolling an upcoming product release.
Xoom Tablet is also important for Google as the device is going premier Google's Android mobile operating system. Android version 3.0, also known as "Honeycomb," was first demoed on Motorola's Xoom at CES in January.
With Xoom Tablet Motorola is going to compete with Samsung's Galaxy Tab and RIM's forthcoming BlackBerry Playbook. It seems Motorola is backing its product with heavy duty marketing and advertising.
Check out the Xoom Tablet Ad from Motorola titled Empower the People

1984 Apple Macintosh Commercial

Motorola commercial featuring Megan Fox – Super Bowl 2010

iTunes/Motorola Madonna Commercial – ROKR

Motorola DROID: Stealth commercial