1. Sports Authority
2. Rolex for Wimbledon. A classic advert for a classic tournament.
3. Press ad for Wimbledon magazine
4. Roger Federer in Nike Ad
5. Roger Federer Equation in Nike Ad. Watch how Roger Federer is mathematically equal to or greater than Pete Sampras

6. HSBC Grass as medium promotion in Wimbledon. More on HSBC using Wimbledon using Grass As Its Medium.
7. BBC Sport in this advert is promoting its coverage of Wimbledon tennis tournament featuring past and present tennis stars like Billie-Jean King, Bjorn Borg, John McEnroe, Martina Navratilova and current champion, Roger Federer and more.
8. BBC Sport Wimbledon Promo: The toughest game of all (Video advert)
9. BBC Sport Wimbledon promo: Comes to Life. The song is "A beautiful morning" by Rascals
9. KitKat ad is celebrating epic Wimbledon
10. Nike ad featuring tennis star Maria Sharapova. Nike in its women focused website www.nike.com/nikewomen is asking What does your workout add up to? The print ad series was run on magazines like in Cosmopolitan, Fitness, Allure, Lucky, , InStyle, Glamour, Marie Claire and Shape.
11. Italian Tennis Tournament
Ad 1
Ad 2
Ad 3
Ad 4
12. Jimmy Connors promoting men's line. Not sure about the product
13.Rolex ad featuring Ana Ivanovic
14. Ana Ivanovic in Yonex ad
15.Roger Federer in Nike Ad
16. Chris Evert in Polo Club Boca Raton 1988 ad
17. Anna Kournikova featured in K-Swiss ad
18. Lacoste futuristic tennis advertisement looks at how the game will be played in 2083. The ad spot was released to celebrate brand's 75th anniversary.
19. Lacoste TV commercial on the same theme, let's reinvent the game
20. Rogere Federer in Wilson K Factor ad for US Open
Serena Williams in Wilson K Factor ad for US Open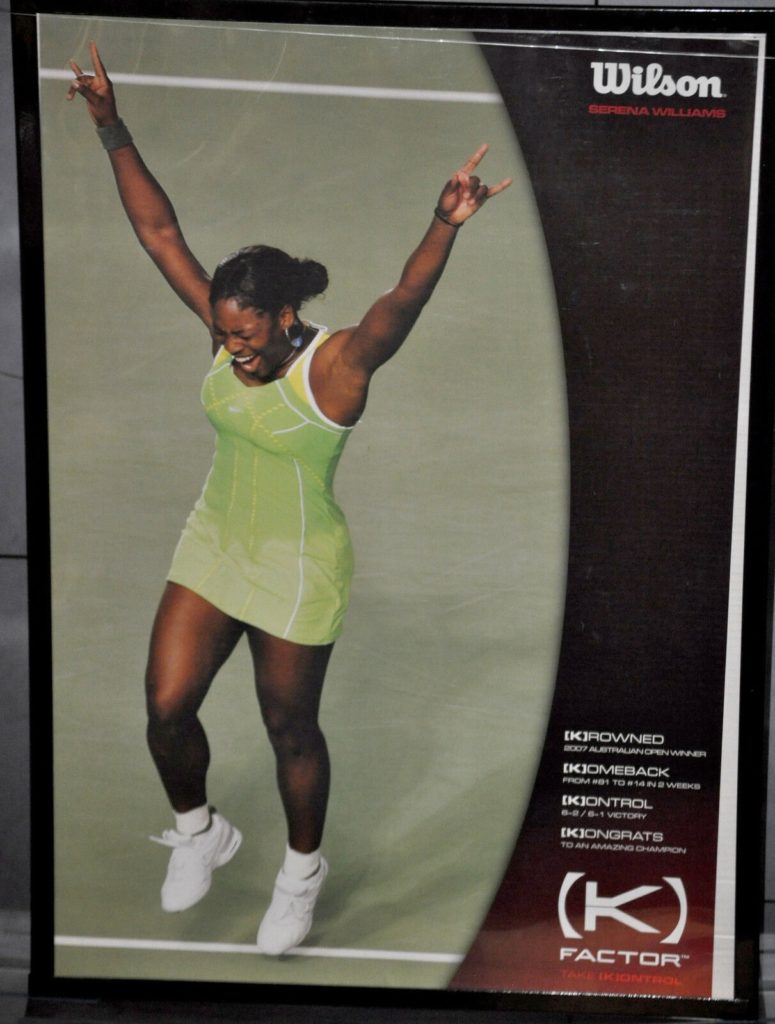 21. Andre Agassi and Pete Sampras in Nike's ad – NYC Street Tennis

22. Roger Federer featured in NetJets advertisement
23. Rolex advertising with Roger Federer
24. Another Roger Federer advertising for Nescafe Gold. For Nescafe this is a shift from silver screen hero to real life sports hero. The brand has roped in the tennis superstar by replacing George Clooney. Source
25. Maria Sharapova new face for Cole Haan. The advertising campaign is called "The Inspired Life"
26. French Open advertisement
27. Rafael Nadal endorsing luxury watch brand Richard Mille
28. Rafael Nadal ad for Lanvin fragrance Paris
29. Fernando Verdasco ads for Calvin Klein. This guy is much like Maria Sharapova. He has not achieved the greatest of heights in tennis but has been able to establish himself as the pin up boy of the sport.
31. Vintage Lipton Iced Tea Mix ad featuring Chris Evert Lloyd (1985)
32. Funny tennis commercial from Hetnet. The ad is in Dutch, referee got annoyed during women's tennis match due to their loud moaning.
33. Super amazing tennis commercial featuring Andrey Agassi, Steffi Graf and their kid. The ad is super amazing, alright, but I wonder, the poor kind, mountain of expectation that he will have to carry to prove himself. Oh…forgot to tell you, it's a commercial from Genworth Financial, as they call it, it's built on GE heritage.

34. Sony Cybershot TV commercial featuring Ana Ivanovic and Daniella Hantuchova. Nothing much to celebrate in this ad except the fact that it beautifully goes larger than life. Less tennis, more hollywood studio production, this ad

35. Super sexy tennis advert. (Caution: Visually not much but audio wise its not safe for work, get your earphone or mute it.)
Last updated on 18 Aug, 2019