These are best advertisements from India's most trusted brands. Brand Equity and The Nielsen Company have conducted a survey with a sample of more than 8,100 acorss socio-economic classes, age, income and geography. The survey zeroed in on 300 brands from India, evaluated them on seven parameters and rated them accordingly. Please remember, the survey has found out most trusted brands of India. I have taken up the list and as you know, this is an advertising blog, have recollected most memorable ads from the repsective brands here. These are my personal favorites and have nothing to do with Brand Equity-AC Nielsen survey. Some of these ads were dated back to Doordarshan era, during 80s and 90s.
To check 1-50 list click here: India's 100 most trusted brands, best brands of India
51. Cadbury
Cadbury Dairy Milk television ad- Kuch Khas Hain Hum Sabhi Main

52. 7 Up
Nimbu Paani Print ad (a 7 up brand)
7 Up outdoor ad
7 Up television ad featuring Yana Gupta

7 Up television ad featuring Mallika Sherawat

7 Up television advertisement featuring MS Dhoni

53. Titan
The eternal pair
Titan TV ad featuring Aishwarya Rai
Titan ad featuring Aamir Khan. The ad was shot during the shooting of Ghajini.

54. Samsung Mobile Phones
Samsung Mobile Phone Advertisement featuring Aamir Khan
Samsung Mobile Phone Ad featuring Aamir Khan

55. Ariel
My apology, this Ariel is ad not made in India. It's from Russia.
Stop being cruel to your clothes
Sacred Stain
56. Mirinda
57. Moov
Ad punchline: Pain relief balm
Move without pain

58. Parachute
Advertisement title: Size zero
Parachute television advertisement featuring Deepika Padukone
59. Sprite
Sprite Seedhi Baat baki sab bakwas ad
60. Dabur Amla
Karisma Kapoor & Sonali Bendre featuring in Dabur Amla television advertisemnt
Rani Mukherjee featuring in Dabur Amla television advertisement


Razan Maghraby featuring in Dabur Amla television commercial
61. Vim
62. Bisleri

63. Sony
Sony Vaio Go Vivid advertisement featuring Kareena Kapoor
Sony Cyber Shot Print ad
Sony Bravia Print advertisement
Sony W200i television ad featuring Hrithik Roshan

Deepika Padukone in Sony Cybershot TV ad

64. Zandu Balm
65. Nescafe
Good Morning @Nescafe print ad

Nescafe ad: Rain
Nescafe television ad from 1990s (1988)
Deepika Padukone in Nescafe TV ad

66. Nirma
Nirma Girl
'Washing Powder Nirma' – Nirma TV ad shot under water

Washing Powder Nirma – theme song

67. Dove
Dove print ad titled "No Mystery"
Dove Heat print ad
Dove television advertisement (1994)
Dove TV ad

68. LIC
LIC Outdoor full train ad
LIC television ad

Life Insurance Corporation of India television advertisement

69. Godrej No 1
Godrej No. 1 television advertisement

Godrej No. 1 strawberry TV ad

70. Cinthol
71. Asian Paints
Apex Ultima print ad
Asian Paints Royale print ad featuring Saif Ali Khan
Asian Paints television ad

72. Rasna
'80s Rasna girl (print ad)
Rasna tv ad during Doordarshan days (80s)

73. Sunfeast
Shahrukh Khan in Sunfeast buscuit print ad
Shahrukh Khan in Sunfeast TV ad

74. Videocon
Shahrukh Khan and Mahendra Singh Dhoni in Videocon print ad
Shahrukh Khan Videocon TV ad

75. Ujala
Ujala Supreme ad
Ujala Supreme television ad

76. Fanta
Fanta Rani Mukherjee TV ad

Fanta Genelia D'Souza Television advertisement

77. Tata Indicom
Tata Indicom TV ad featuring Kajol

78. Onida
Onida advertisement from 1986
Boman Irani in Onida TV ad
79. Lakme
Rekha in Lakme ad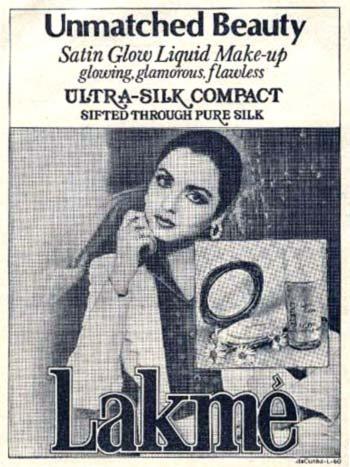 Sonu Walia in Lakme advertisement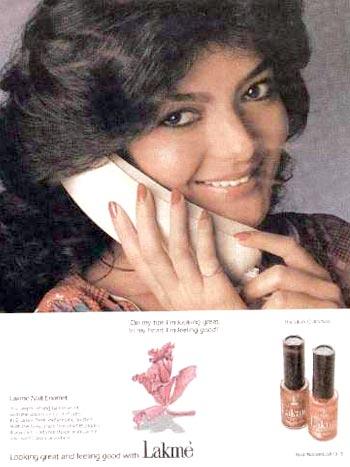 Shyamoli Verma in Lakme ad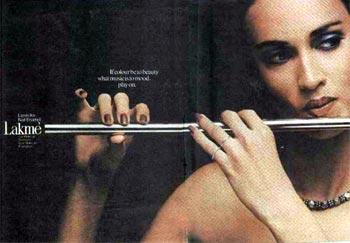 Aishwarya Rai Lakme ad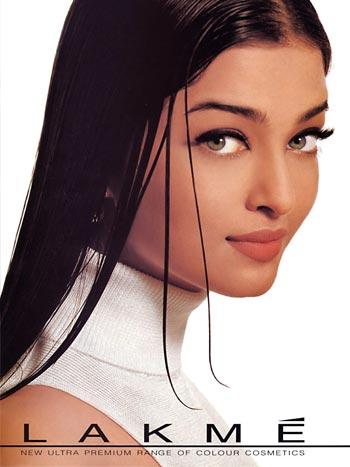 Bipasha Basu in Lakme ad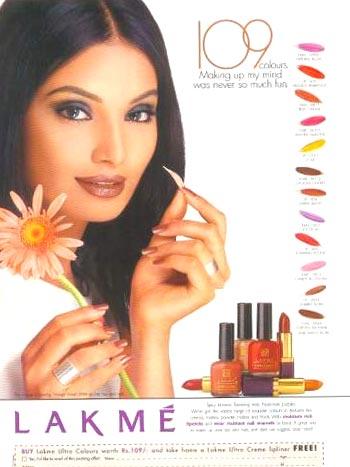 Akansha Mathur Nanda Lakme Ad: Ah…she may look like Sonam Kapoor, but she is not. Last heard, the model got married and bid adieau to the modelling world.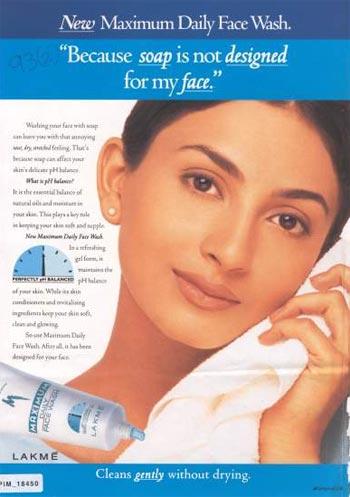 Lisa Ray and Yana Gupta in Lakme ad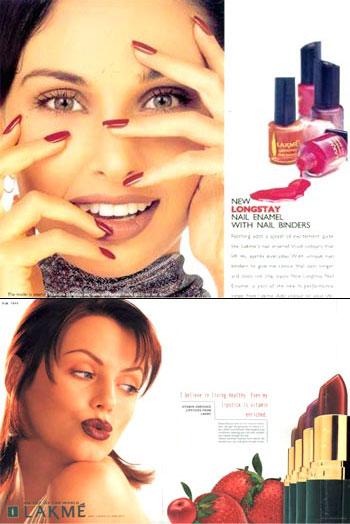 Raima Sen, Katrina Kaif in Lakme ad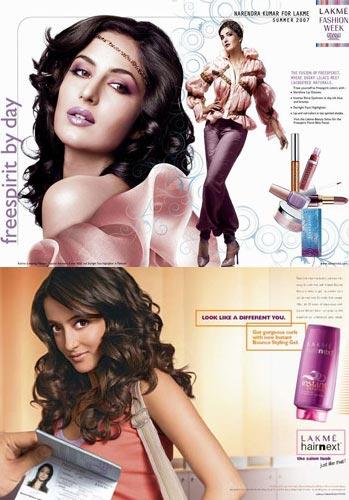 Aishwarya Rai Bachchan Lakme Ad
80. LG Mobile Phones
81. Crocin
Crocin TV commercial

82. Himani Navratna
Amitabh Bachchan Himani Navratna ad
Shahrukh Khan Navratna Print ad
Amiatbh Bachchan Himani Navratna television commercial

Shahrukh Khan Himani Navratna TV ad

83. Amrutanjan Balm
Amrutanjan Balm Ad slogan: Unclog your world
84. Bajaj Motorcycles
Bajaj Pulsar slogan: Thrill has new wave
Pulsar Advert tagline: Great wheelie. Now take a look at the finance scheme.

Pulsar television commercial

85. Garnier
Garnier Light Moisturiser featuring Genelia D'souza
Garnier Corpoerate Ad
86. Pears
Pears soap print ad with tagline, By appointment to the Queen

87. Hajmola
Hajmola television commercial during Doordarshan days (1980s)

88. Whirlpool
Whirlpool Washing Machine print ad.
Ad slogan: Gives body to fabric.
Whirlpool Kitchenware
Ad punchline: Stop carrying that smell around.
Odour free kitchenware
Whirlpool television ad featuring Kajol, Ajay Devgan and Yuvraj Singh – The Kajol-Ajay jodi may not reap profits for producers with a bang, but certainly their journey as couple and their personal attributes are convincing enough for the viewers to give the jodi a thumbs up. Effervescent Kajol found many A list advertisers knocking at her door after the successful run of this campaign.
89. Lay's
Lay's ad done by Saif Ali Khan. Being a non-vegetarian I never thought whether potato chips are veg or non-veg stuff. I mean I always pick my favorite flavor from the shelves or would go for a newly launched flavor. Saif here showing his readers that Lay's potato chips are vegetarian.
Lay's print ad: Dhoni and Saif
Lay's TV ad featuring Saif Ali Khan, Preity Zinta and Rahul Khanna

90. Santoor
Santoor Sandalwood Soap TV ad
91. Pantene
Pantene Print ad featuring Katrina Kaif
Creative take
92. Hamam
93. Honda two wheelers "Dhak dhak" TV spot. The ad features Hrithik Roshan and Priyanka Chopra
http://youtu.be/IMYGwa_bMJo
94. Eveready Give Me Red (1996)
95. Sony Ericsson Mobile Phones
96. Saridon
97. Maruti Suzuki
98. Motorola Mobile Phone commercial featuring Abhishek Bachchan
http://youtu.be/f16BqSpOfMo
99. Dalda commercial celebrating Mother's Day
100. Godrej Powder Hair Dye