The best advertising slogans are memorable and fit with the times. A good slogan is brief, yet memorable.
There are slogans, and then there are taglines. Slogans sum up what a company stands for, whereas a tagline concludes an ad, usually a commercial, with a quick sign off.
Think about the brands that you know well, and perhaps even love. Chances are, it's not just a brand name you're recalling, but a tagline, too. Almost all brands, products, and large corporations have some kind of tagline. Some are timeless, others get replaced every decade, or even sooner if it's just not resonating with the public.
Some of the most memorable slogans of all time – "Where's the beef?" or "Just do it" – not only sell the brand, but became synonymous with it
When you hear the phrase, "Just do it," the first thing that comes mind is probably, Nike. What about "Open happiness," "The pause that refreshes," or "It's the real thing"? Those phrases belong to Coca-Cola
That's the power of a good slogan. They're designed to stay with you seemingly endless repetition through commercials and billboards don't hurt either).
There are slogans, and then there are taglines. According to brand consultant Laura Ries at Advertising Age, "Taglines are like the road sweepers at the end of a parade … they seldom position the brand." A slogan, when done right, "sums up a company's strategy," she adds.
The TOP 100 Advertising Taglines Ever
Here are 100+ most memorable and recognizable slogans and taglines in advertising history.
1. DeBeers "Diamonds are forever" – 1948
Not many Americans proposed with the diamond engagement ring in the 1930s. For a long time diamond was viewed as symbols of wealth, power and decadent romantic dreams—a stone too precious and expensive to attain, writes AAAA. Then an ad campaign changed everything. Jewelry retailer De Beers hired N.W. Ayer & Son, an advertising agency based out of Philadelphia. Frances Gerety, the female copywriter who never married (pic above) came up with greatest professional achievement in the form of "A Diamond is Forever" which arguably has helped to create a sense of emotional attachment to the diamond engagement ring. And created a multibillion-dollar industry out of it. Since then, from 1947 through 1970, Ms. Gerety dedicated herself to De Beers. The tagline forever changed public attitudes, made diamond precious gemstone of choice for engagement virtually worldwide. The slogan became a symbol of enduring love weaving itself into popular culture and inspiring books, films, and songs. In 1999, Advertising Age proclaimed it the slogan of the century.
2. Nike:  Just do it, 1976
The surprising and morbid origin story of Nike's slogan started with a murder. In 1976, Gary Gilmore murdered a gas-station employee. His lawyers tried to appeal the sentence, but something unusual happened: Gilmore insisted on execution. Before his execution, Gilmore reportedly was asked for any last words. His reply: "Let's do it," took much of media space and inspired advertising executive Dan Weiden who coined the term, Just Do It. Full story here.
3. Volkswagen: Think Small, 1959
It is believed that Volkswagen has changed the course of advertising with the 'Think Small' campaign. With its perfect blend of wit, humor and appreciation for the intelligence of the customer, it won Americans over in the 50's and 60's. Beautifully simple, surprising, minimalistic and relevant even today.
Who would have thought a funny looking car that was named after a bug (beetle), known for not being the fastest and manufactured in factories built by the enemy state would become apple of American eyes?
During 50s and 60s, post WWII, when cars were giants, testosterone boosters and fashion statements, folks at Volkswagen disrupted the traditional narrative with an honest appeal.
With their legendary "Think Small" campaign, DDB did the exact opposite of what every other car ad was doing: They were brutally, boldly and cleverly honest. The truth was that the Volkswagen Beetle was a small, slow and ugly foreign car. By admitting that, and explaining why those were good things, DDB turned the VW Bug into an iconic piece of American pride. Source
An ad heritage that inspires goodwill even today. Yes, the ad is relevant even today. Not just in popular culture or our collective conscience but on more functional fronts too. Volkswagen advertising still uses a similar layout to those first created by the reluctant art director, Helmut Krone. The original agency, DDB still manages the Volkswagen account.
4. Coca Cola: The pause that refreshes, 1929
Coca-cola has many slogans over the last century. Check it up here. This partcular marketing strapline is my favorite as it seems relevant even today. It talks about taking time to pause and refresh brains.
4. Miller Lite: Tastes great, less filling, 1974
Subsidiary of cigarette maker Phillip Morris, Miller Brewing Company launched a new reduced-calorie beer product with the slogan "Tastes Great. Less Filling." A new category was born. The product introduction later proved to be one of the most significant turning points for the beer industry. Full story here. 
5. Avis: We try harder, 1962
Undoubedtly, the most famous and talked about underdog advertising in the history of marketing. Timeless and resonates with people long after it's been released into the world in 1962. More.
6. Maxwell House: Good to the last drop, 1917
The story has it that Theodore "Teddy" Roosevelt has coined the term while having coffee at at the Hermitage, a famous Nashville resort.
7. Wheaties: Breakfast of champions, 1930s
The iconic orange box and the timeless slogan "Wheaties – The Breakfast of
Champions" has made Wheaties a genuine American icon and a metaphor for greatness and success. Know more
8. Clairol: Does she … or doesn't she?, 1956
Dyeing and coloring hair was mired withs social stigma back in 1956. Mostly women from stage or sidewalk colored their locks. To eliminiate the social stigma through communication, Clairol hired FCB. Shirley Polykoff, FCB's sole female copywriter then realized that the proposition to sell Miss Clairol would revolve around reassuring its buyers that the color they'd get from that little box would be so natural, nobody would ever guess. The tagline, "Does she…or doesn't she?" reaffirmed that belief and the rest was history.
9. Morton Salt: When it rains it pours, 1912
The premise was to show Morton Salt was so free flowing that it pours even during rainy weather. The message and the campaign, originated around 1900s, is  still considered to be one of the most successful and lasting ideas to originate.
10. Wendy's: Where's the beef? 1984
"Where's the beef?" instantly captured audience's attention after the actress named Clara Peller demanded to know this in the commercial.
11. Molson Canadian Beer: I am Canadian, 1994-1998, 2000-2005
With a punch of patriotism this classic beer campaign has tapped into powerful emotions of Canadians and consistently won brand love for over decades.
12. Miller Beer: The Champagne of bottled beer, 1950s
The assertion of the premise, "The Champagne of Bottled Beer," relied on its dare, bold argument. Luxury in mind, the company designed beer bottled with sloping slides resembling conteporary champagne bottle. Though, a great success of its time Miller later changed strategy and celebrated the working man instead of branding its beer a luxurious item.
13. SBC communications "Seeing small business differently" – 1932
14. T-Mobile: Stick Together, 2006
To offer its new calling plan of unlimited calling to select five members, T-Mobile unveiled Stick Together tagline. The campaign was preceded by Get More in 2005 and followed by Uncarrier in 2013.
15. FOX News: Fair and Balanced, 1996
Co-founder Roger Ailes conceptualized the iconic catchphrase during the formation of the network. After his demise at the age of 77, Fox News has dropped it for a new slogan, Most Watched. Most Trusted.
16. WINS Radio: You give us 22 minutes, we'll give you the world, 1965
WINS, 1010 on the AM dial initiated this easily identifiable and distinctive slogan to promote its twenty four hours programming. The tagline is a reference to WINS's format clock, which returns to the top stories every twenty minutes. WINS also has used other memorable slogans such as All news, all the time, The newswatch never stops, Listen two, three, four times a day.
17. HBO: It's not TV, it's HBO, 1997-2009
An iconic slogan,  an assertion that has endured long after the slogan was retired. The slogan 'It's Not TV. It's HBO' was introduced in 1996 as a smart way of differentiating a HBO series from its competition by distinguishing its original series as something unique and of value – something audiences cannot get elsewhere. The spots, conceived by ad agency BBDO New York, sought to reflect the spirit and the programming of HBO. Instead of previewing upcoming events or providing a traditional ''tune-in'' message, the ''It's Not T.V. It's HBO'' campaign attempted to present the viewer with a sample of HBO's programming. Link
18. Marlboro: The Marlboro Man, 1955
The most powerful — and in some quarters, most hated — brand image of the century, the Marlboro Man stands worldwide as the ultimate American cowboy and masculine trademark, helping establish Marlboro as the best-selling cigarette in the world, writes AdAge.
19. McDonald's: You deserve a break today, 1971
By all accounts, McDonald's best-remembered powerline in over sixty years of selling burgers, shakes, and fries, is "You Deserve a Break Today," created by advertising agency Needham, Harper & Steers in 1971. It was put to music as part of a jingle that became the centerpiece of a multimillion-dollar television and print campaign, observes Steve Cone in his book "Powerlines: Words That Sell Brands, Grip Fans, and Sometimes Change History"
Keith Reinhard, one of the frontmen behind the campaign reminisces the premise here. He writes,
But we had gathered research confirming that consumers in those days needed an escape from the humdrum and sameness of their lives. Moms needed an escape from meal planning, dads needed relief from the high price of eating out, kids needed a respite from broccoli and table manners, and on and on. Folks needed a getaway from their daily routines.
20. Absolut Vodka: The Absolut Bottle, 1981
Since its inception in 1981, there was probably not a single popular magazine or direct mail magazine left from any niche where Absolut Vodka hadn't adorned its page. Considered as the longest running print ad marketing campaign in history, the ads themselves have become collector's items, unparalleled since those created for Volkswagen in the 1960s.
21. Federal Express: Fast Talker, 1982
Such was the impact of this TV commercial that it brought activity to a halt in households every time it aired. Considered as one of the greatest comedy spots of all time, Federal Express's Fast Talker won plenty of advertising awards including six Clio Awards. John Moschitta who unleashed his manic mouth became a household name overnight. The campaign which was also about mobility or things in motion is relevant even today.
22. Pepsi-Cola: Pepsi-Cola hits the spot, 1939-1949
The 1930s saw a boom in radio ownership as the number of American homes with a set soared from 40 percent at the start of the decade to nearly 90 percent at its end. CocaCola got into radio advertising early, running its first radio spots in 1927, but struggled to find a way to translate Lee's effective print promotions to the new medium. Even after more than a decade on the air the company was still scratching its head about how to sell itself over the airwaves, with Coke executive Ralph Hayes lamenting in 1938, "For whatever reasons, our several radio experiments, up to now, have been less than satisfactory or successful. To date, it has probably been our least effective medium, considering the expenditures involved."
The following year Pepsi showed them how to do it with a campaign that not only sold its drink but altered the way radio advertising was done. The campaign started when two songwriters, Alan Kent and Austen Croom-Johnson, wrote a song for the company called "Pepsi-Cola Hits the Spot," based on the tune of "Do Ye Ken John Peel."
Pepsi decided the song should run on the radio by itself. But the advertising agency was horrified. At the time radio advertisements were long, rambling affairs that, like a second-rate politician's speech, tended to drone on and on. Even the shortest lasted at least five minutes. So when Pepsi asked radio stations for a thirty-second slot to play their record, the big stations refused to run such a short ad.
Eventually the company got the song aired on a number of small cashstrapped stations, and it became an instant hit with listeners. Soon big stations were clamoring for the chance to play it too.
A vinyl recording of the tune sold more than one hundred thousand copies and in 1941 alone it was played on the radio more than three hundred thousand times, often without Pepsi paying a cent. Ten years after its 1939 debut, "Pepsi-Cola Hits the Spot" was still being played on air, and other radio advertisers had followed Pepsi's lead and started running shorter, snappier ads. "When I listen to some of the jingles that come pouring forth, I'm not so sure that I started such a good thing," Mack reflected years later in his 1982 biography.
Off the air, Pepsi's promotional work was scrappier, reflecting its status as an upstart with everything to gain and little to lose. Excerpts from Fizz How Soda Shook Up the World by Tristan Donovan
Take a listen
23. Ivory Soap: 99 and 44/100% Pure, 1882
Proctor & Gamble (P&G) first used this slogan in 1895 after a market survey. It wanted to emphasise that Ivory Soap was purer than the average castile soap.
24. American Express: Do you know me?, 1975
American Express's "Do you know me?" campaign officially ran for over a decade. It carried the corporate template of stressing on prestige and inviting eligible consumers to join the exclusive club membership. It used variety of celebrities receiving special treatment and recognition that card members enjoy around the world with a tagline "Don't leave home without it." A successful campaign, it produced 120+ commercials.
25. US Army: Be all that you can be, 1980
US Army coined the slogan, "Be all that you can be" from 1980 to 2001 and used it for recruitment for over twenty years. In January 2003, US Army awarded the copywriter Earl Carter with Outstanding Civilian Service Award.
18. Nickelodeon TV Channel: Nick is for kids, 2004
19. Best Buy "Thousands of possibilities. Get yours" – Year unknown
20. Toshiba "Hello Tosh, gotta Toshiba?" – 1984
21. Energizer Batteries "Keeps going and going and going" – 1991
22. Intel "Intel inside" – 1990s
23. Apple Computer "Think outside the box" – 1990s
Apple TV commercial: Think Different
24. Microsoft "Where do you want to go today?"
That was Microsoft's first worldwide advertising campaign. It involves print, television, outdoor (billboard) medium. Launched in 1994, the campaign costs Microsoft $100 million till the end of 1995, out of which $25 million was spent during the holiday shopping season ending in December 1994.
25. AOL "Welcome to the World Wide Wow" 2002-2003
Not a favorable review of the campaign. Consider this (Source: faculty.msb.edu)
Who better to herald that being broadband with AOL costs at least 20% more than buying broadband access alone. Or that the modest hodgepodge of streaming news, music radio and sports that AOL Time Warner (nyse: AOL – news – people ) offers for $14.95 per month is strikingly similar to what Yahoo! (nasdaq: YHOO – news – people ) and RealNetworks (nasdaq: RNWK – news – people ) sell for $9.95.

Want to download music? Another $3.95 to $17.95, please. Voice messaging, $5.95. Oh, please. Unlike cable, there are no discounts for buying multiple services. The strategy is ruled by spreadsheet and the stock price, not the marketing sense that made AOL's mark.
26. SBC-Yahoo "It's the Internet that logs onto you"
27. Free Software Foundation "GNU is Not Unix"
The GNU Manifesto begins by outlining the goal of the project GNU, which stands for GNU's Not Unix. The current contents of GNU at the time of writing are then described and detailed. Richard Stallman then goes into an explanation of why it is important that they complete this project. The reason he explains is based on Unix becoming a proprietary software…A large part of the GNU Manifesto is also focused on rebutting possible objections to GNU's goals. Objections described here include the programmer's need to make a living, the issue of advertising/distributing free software, and the perceived need for monetary incentive. Source: Wikipedia
There are various forms of free or very cheap publicity that can be used to inform numbers of computer users about something like GNU. But it may be true that one can reach more microcomputer users with advertising. If this is really so, a business which advertises the service of copying and mailing GNU for a fee ought to be successful enough to pay for its advertising and more. This way, only the users who benefit from the advertising pay for it. Source: The GNU Manifesto
28. Edison Records "Echo Around the World"
29. Lyric Records "Never Scratches"
30. Mercury Records "First with the Hits"
31. Rex Records "Hear What You Like – When You Like"
32. Van Dyke Records "Each Record a Masterpiece"
33. King Records "If it's a King, It's a Hillbilly — If it's a Hillbilly, it's a King" – 1930s
34. Timex "It takes a licking and keeps on ticking" – 1950s
Sounding little bit creepy? Well, back in 1950s we probably were not as complicated as we are today. The new Timex tagline is "Timex. Life is ticking"
THE venerable theme for Timex, "It takes a licking and keeps on ticking," looks to be taking a final licking.

The Timex Corporation, in a campaign from its new agency, Kirshenbaum Bond & Partners in New York, is dropping the "licking/ticking" slogan — introduced in the 1950's and brought back in the 1990's — for a theme intended to help update its image. The goal is to freshen the Timex appeal with consumers ages 18 to 34, whose wrists are increasingly sporting other watch brands like Kenneth Cole, ESQ, Marc Ecko, Fossil, Guess, Swatch and Swiss Army that they deem more hip.

The theme change, to "Timex. Life is ticking," is part of an advertising makeover after Timex left its agency of 16 years, Fallon Worldwide in Minneapolis, part of the Publicis Groupe. Source: The New York Times
35. Playtex "Lifts and separates" – 1930s, 1940s
36. Maybelline "Maybe she's born with it – maybe it's Maybelline" – 1991
"Maybe she's born with it. Maybe it's Maybelline" advertising tagline is created. Still a great success for the brand today, this tagline continues to be recognised around the world.
90s supermodel Christy Turlington helped make the tagline "Maybe she's born with it" famous in 1991, and returned to represent the brand in 2006.
Victoria's Secret Angel Adriana Lima has been Maybelline spokesperson from 2003 to 2009.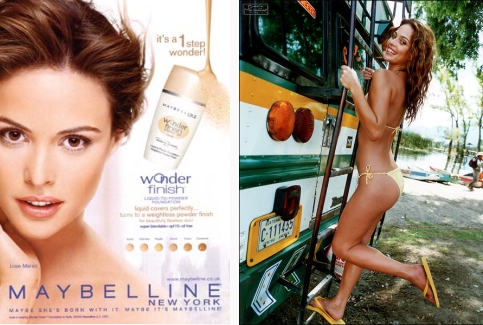 Former Elite magazine model Josie Maran became the brand ambassador of Maybelline in 1999, and later formed her own skincare line, Josie Maran Cosmetics.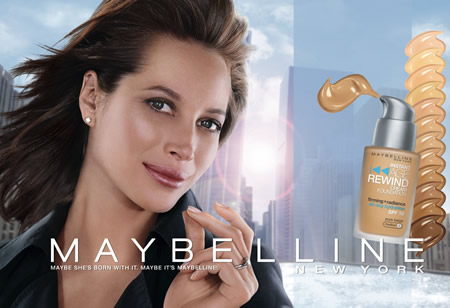 Cover girl of French, German, Spanish and Australian Vogue, Flair, Numero, Allure, Esquire and Elle, Erin Wasson. In 2002, Wasson became the international face of Maybelline, appearing in print ads and television commercials for the cosmetics brand.
Danna Garcia Maybelline commercial – Colombian actress Danna Garcia signed as the new Latina face of Maybelline in 2006.
Lisalla Montenegro shoots her first campaign for Maybelline New York
37. Mastercard "There are some things money can't buy. For everything else, there's MasterCard" 1997
MasterCard Priceless Commercial (My personal favorite)
MasterCard Priceless TV advert
38. VISA credit card "VISA – It's everywhere you want to be" 1985
39. Merrill-Lynch "Merrill-Lynch is Bullish on America" 1970-71
[Please keep in mind, this video also includes other ad spots as well with Bullish on America (between @6.01 to @6.550. They are Fantastik cleaner by Texize, FDS new improved feminine hygiene spray, GAF sheet vinyl floor with Henry Fonda, GTE/Sylvannia color television, Hormel Hot Chili (done cowboy style)]
40. Midland Bank "The Listening Bank" 1990s
41. Abbey National "Because life's complicated enough"
42. E.F. Hutton "When E. F. Hutton Talks, People Listen" 1970s, 1980s
Bill Cosby for EF Hutton. Awesome
43. Trustee Savings Bank (TSB) "The bank that likes to say Yes" 1980s
44. Washington Mutual "More human interest"
45. Trebor Mints "A minty bit stronger"
46. Heinz Baked beans "Beanz Meanz Heinz"
47. Lay's potato chips "Betcha can't eat just one"
48. Mars bar "A Mars a day helps you work rest and play" 1980s
Mars Commercial: Work Rest and Play
49. Milk tray chocolate "All because the lady loves Milk Tray" 1960s
50. Smarties "Do you eat the red ones last?"
51. Ready Brek Porridge "Central heating for kids"
52. H.J. Heinz company "57 Varieties"
53. McDonalds "Have you had your break to day?" 1997
McDonald's ad
McDonald's "We do it all for you"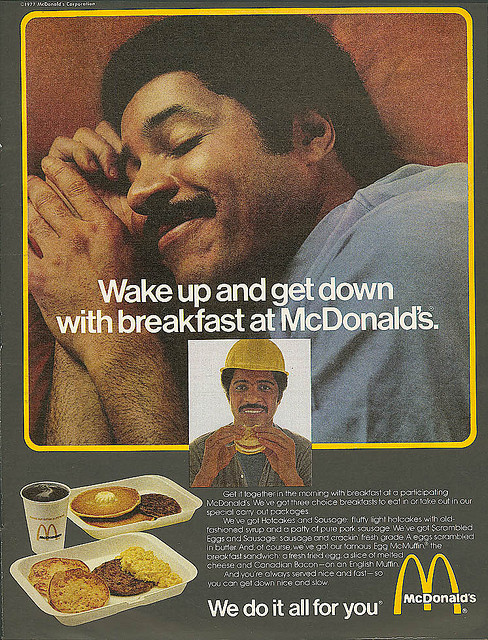 54. Taco Bell "Think outside the bun" 1981
55. Domestos "Big Bad Dom"
Domestos – Bleach – Big Bad Dom Green – UK Advert
56. Fairy Liquid "For hands that do dishes…"
57. Flit insecticide "Quick, Henry, the FLIT!"
58. Sherwin Williams paint "Covers The Earth"
59. Clairol Herbal Essences "A totally organic experience"
60. Remington Shavers "I liked it so much I bought the company"
61. L'oreal "Because you're worth it"
62. Disneyland "The happiest place on Earth" 1960s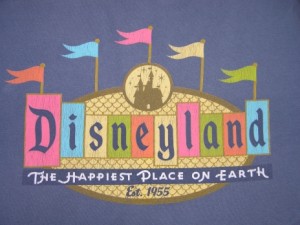 63. Adidas – Impossible is nothing.
64. BMW "Sheer Driving Pleasure"
65. California Milk Processor Board "Got milk?" 1993
66. American Express – Don't leave home without it
Check out part 2 Top n Best 100 Ad slogans here
(It's a radio ad)