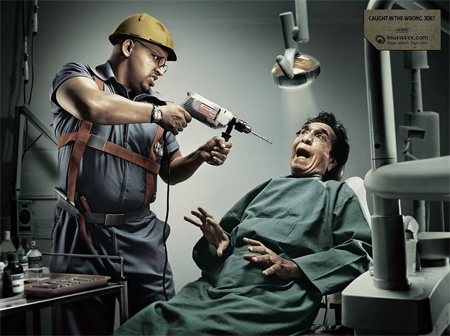 Monster.com, the career portal is back in the 43rd Super Bowl commercial after four long years. In 2004, the ad price was approximately $2 million for 30 a second spot, this year, despite an economic slowdown, Monster will be paying around $3 million for a half minute spot.
It's imperative to note that when there are approximately 11.1 million unemployed people in America and when the unemployment rate is touching a 16 year high, Monster strives to go all out with its appeal to the jobseekers.
As per Monster Worldwide, the parent company of the group has decided to uses a dash of humor in the commercial. The advertising and publicity wing of Monster group believes that even in cheerless economy people want humor.
In one television commercial, a construction worker is shown tense (in a close up shot), clings to a beam; he was crying and whimpering and shivering. In the next shot, which was a long one, the camera pans up to show that the worker is only a few feet off the ground.
In another TV commercial, a crew of emergency medical technicians jumps out of an ambulance as heroic music plays. They run to a car accident — and an E.M.T. faints, reports NYT
"Are you in the right job?" the ads ask.
Click here to watch the Monster 2009 XLIII 43rd video commercial
Video: Monster.com commercial: The road less traveled
Video: Amazingly beautiful Monster.com ad: Don't fight Monday
Video: Monster.com ad from UK. Like a tiger